Welcome to FUN2FUN
The family-run Fun2Fun - Windsurfing, Kitesurfing and Catamaran Sailing Center is located on the beautiful island of Kos in Greece. The centre is located on the outskirts of Marmari, on the north side of the island.
Fun2Fun offers you various courses in kitesurfing, windsurfing and catamaran sailing. For this you have a spacious learning area and a professional team at your disposal. Whether beginner or expert, everyone is welcome to spend time on the water or relax on the sun loungers.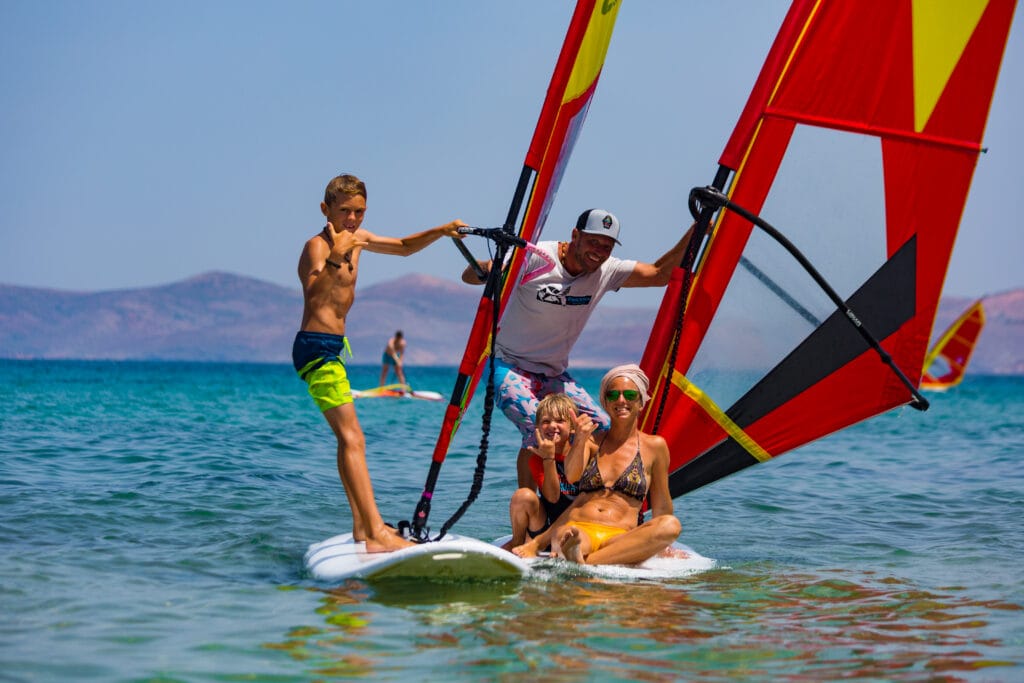 Activities
Fun2Fun offers you a wide range of water sports. Due to the favourable location and the large amount of space, we don't have to limit ourselves to just one type of sport, but can also offer you kitesurfing and catamaran sailing in addition to windsurfing - a real speciality on the island.
Windsurfing
You don't just want to ride down the wave, but also top speed on the water and feel the elements? Then windsurfing is the right choice for you!
more infos
Kitesurfing
Do you want to try out the new trend sport of kitesurfing or are you already fully into it? You can find all the information here!
more infos
Catamaran sailing
Are you a passionate sailor, have you always wanted to learn how to sail or just relax on a boat? If you're looking for an experience on the Aegean (or pure tranquillity with less wind), then the catamaran is just your thing!
more infos
Wingfoiling
You want to get on the water as early as possible, even with little wind? With wingfoiling you set new standards in the low-end range!
more infos
About Us
Under the direction of Dominique and Nadine and with the motto "Just be on the water", Fun2Fun brings variety to your beach holiday. With years of experience, professionalism and lots of fun, the Fun2Fun team will get you on the water.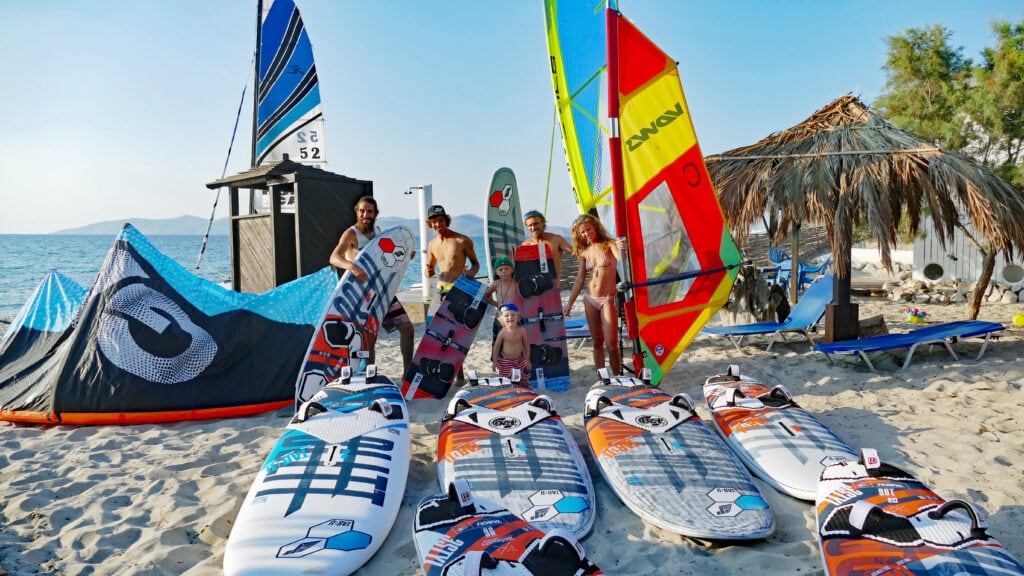 more about us
Spot & Station
Our spot is divided into two areas: Kite & Windsurf Zone. This makes starting & finishing sessions in particular more relaxed and safer. More experienced surfers stay outside the training zones after starting and also benefit from the improving conditions in the deeper dark blue water. There are often 2-3 knots more here.


more infos
Special offers
For the periods: 01-31.05.2022 and 15.09-20.10.2022

1 week windsurf rental

2 weeks only € 350
1 week rent

Beginner board (with centreboard) and profile sail

+ 4 h ascender training

Jibe, Fast tack, Beach start, Harness, Planing
Foil in May/October Special

1 week windsurfing foil rental

incl. introduction by a teacher
book now
Frequently asked questions
What material do you have on site?

We rely on Gaastra sails and Tabou boards from our own experience. We have almost the entire range of board and sail sizes in stock for you, so there is something for every level. Our Tabou boards start at 86 litres and end at 230 litres. With our Gaastra sails, we have all the usual sizes from 3.3-9.0 sqm in stock. So nothing stands in the way of light wind days.

We also rely on Gaastra in the kite sector. Here we also have all common kite sizes between 5.0 sqm and 17.0 sqm. We are well positioned when it comes to boards. We always have a suitable board for every skill level in stock.

 

What to do when there is a lull?

On slack days, the Aegean becomes a huge clear lake with super pleasant temperatures, so that on these few days the SUPS and canoes are a sought-after commodity. In addition, our surf centre is very centrally located, so that numerous excursion destinations are easy to reach with a rental car.

Where can I put my family/ non-surfing partner?

Our water sports centre is located on one of the most beautiful stretches of beach on the entire island. Our sunbeds and Caribbean-style chill-out area welcome all our guests with their family and friends. 

Due to the sloping onshore winds, we can always teach close to the shore and on sandbanks, so that we can stay close to the beach, especially with beginners. In the training sessions, our instructors are not afraid to get wet and are always close to the students.

In addition, each of the two stations has a motor boat, so that we can always accompany the drifting surfers and sailors safely back to the beach on the few offshore days.

What should I bring with me?

Fun and motivation in water sports! Of course, in addition to your swimwear, it doesn't hurt if you also have own neoprene suit, or even a harness, and use this bring with you. But don't worry, our centre is optimally equipped so that everyone has access to wetsuits and harnesses in addition to the rented equipment. If you have very sensitive hands and want to try windsurfing, you can also buy surf gloves from us, as well as board shorts and T-shirts.

I have another question. Where can I contact you?

Please contact us via the contact form here.
book now